PageGroup takes pride in ensuring that your contracting experience is as smooth and hassle free as possible. Our new and improved Timesheet and Payroll system called 'Page Timesheet Portal', offers one-click approvals, automated electronic pay slips and direct access to Work Health & Safety info. It's all in the one easy, secure location.
This means you can get your contracts and compliance documents reviewed, accepted and approved in minutes, not days. Imagine how much time and energy you'll save getting all your timesheets, expenses and invoicing done in one place.
With our centralised process you'll have all the reliable information you need at your fingertips. Now you can make better decisions quickly and with more confidence.
What are the benefits of the Page Timesheet Portal?
As a contractor, the 'Page Timesheet Portal' will offer you a range of benefits such as: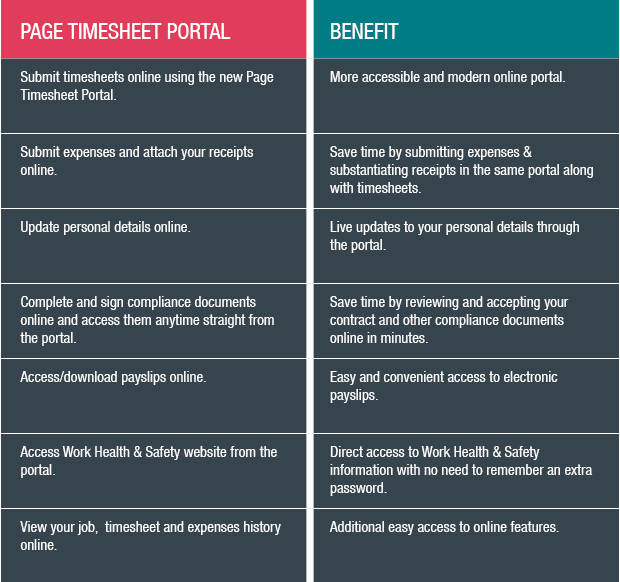 Who do I contact if I have any questions regarding the Page Timesheet Portal?
PageGroup takes pride in ensuring that your experience is as smooth and hassle free as possible. If you have any questions about Page Timesheet Portal please feel free to contact your consultant directly or our friendly Payroll Team [email protected]