2015 Winner
Richard Barrett, Senior Director Retail Oceania at Ralph Lauren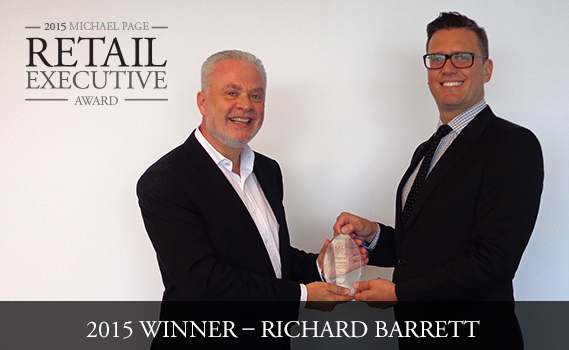 (Left - Richard Barrett, right - Richard Wynn, former Regional Director at Michael Page Retail)
Notable achievements
Richard Barrett has held senior roles in department stores in both Australia and the United Kingdom. He was responsible for the refurbishment of the David Jones store in Bondi Junction during the construction of the Westfield Centre and has held senior roles at Harrods and WC Penfold. As Senior Director of Retail at Ralph Lauren Oceania, Mr Barrett has executed a number of successful initiatives, all underscored by a big-picture viewpoint and a strong sense of company vision.
The award is testament to Mr. Barrett's energy, passion and belief in the Ralph Lauren brand in the Australian market. His achievements have only been made possible by a great synergy between all areas of the Ralph Lauren business, focusing on end-to-end customer-centric solutions, improved product training and great store managers.
In his own words
"It will be sensational to go away with a diverse group of people and see some of the iconic cities in the world. I'm looking forward to experiencing the service proposition of different retailers across the globe on the 2015 Westfield World Retail Tour."
Hear from our past winners
2014 Winner
Mark Bilton, Group Managing Director of Gloria Jean's Coffees
Mark Bilton has developed his career in the retail industry with Managing Director and CEO roles at multinational companies in both the listed and private sector. He has an MBA and a Post Graduate Diploma in Business and has held numerous directorships on industry, education, not-for-profit and commercial boards.
Notable achievements
Mark Bilton has been instrumental in developing the strategy behind increasing sales, profit and customer satisfaction across 400 Gloria Jean's franchises. Mr. Bilton introduced a three year strategy with a clear vision and milestones that lead to a sense of collective responsibility, individual empowerment among franchises and a change in company culture.
In his own words
"The whole package was fantastic. You go away with 30 people and they are all talking retail for two weeks. Great cities, a wonderful experience. You get to see fifty of the best retailers in the world. What's not to like about that?"
2013 Winner
Warren Wilmot, CEO of 7-Eleven
Warren Wilmot has worked with the 7-Eleven company for more than 20 years, commencing as a District Manager in the field with franchisees and progressing through various operational roles, as well as spending some time as Head of Marketing before being appointed Chief Executive Officer in November 2002. He oversees the operations of more than 600 convenience stores in his CEO role.
Notable achievements
Mr. Wilmot was instrumental in developing the strategy behind introducing the sale of Krispy Kreme doughnuts throughout the 7-Eleven store network. The model leverages the company's exclusive existing supply chain to stores, one no other convenience store or food chain can replicate due to its market density model, according to Mr. Wilmot's award submission. The offer has also been developed as a true strategic partnership in which the financial model is designed to benefit both parties equally, with principals from each company meeting monthly to ensure complete end-to-end integration.
In his own words
"I was very keen to do the Westfield retail tour. It was something that had always been on my list as something of interest. To win the award and be able to go and do that was great."