You are here
The best advice for a happy life and happy career in 2018
'If it's meant to be, it's up to me.'
This is one of the best quotes I have ever heard. Some attribute it to Tom Dreeson, others attribute it to William H Johnsen, and regardless of who said it first, it certainly delivers a great truth.
As we ease into the New Year, I believe this is the year for powerful positive thinking. Rather than just listing out what our resolutions are, let's make promises to ourselves that we will keep!
How do we do that? Well, let's consider the way we view ourselves, what we are capable of and what we do to achieve what we really want in our lives and careers. We can do this together and I hope you'll keep me as accountable as I will keep you!
Let's focus on this:
1. Attitude Check:
Acknowledge our attitude towards any situation. If something bothers us, step back and take a positive, can-fix-it, self-reliant attitude towards what's happening. Remember: Choices + Behaviours + Actions = Accountability.
"If it is to be, it's up to me" It's too easy to blame others for how our life is. I'm sure you've blamed the traffic for arriving late somewhere when if you had only been organised enough to leave earlier you could have been on time.
Acknowledge that we do have a level of control over our own lives. If we stop blaming others for the woes of the world and shift our thinking to 'What can I do to make a difference?' our lives will change for the better.
2. Focus on what's worth focusing on:
If we aren't happy about something, there's no point trying to change someone else (our partner, our boss, our colleague, our friend) - focus on changing what needs to be changed, improved or adjusted about ourselves so that we can lead by example. "Be the change you wish to see in the world" - I'm quoting Gandhi with this one!
This meme is one of my favourites with another quote, this time by Mother Teresa, "Do not wait for leaders. Do it alone, person to person."
3. Speak kindly to ourselves:
We become what we tell ourselves over and over again. It becomes programmed into our psyche. Make sure that our self-talk is filled with positive, new ideas and the world of possibility so we can take action. Tell yourself, "Yes! I Can!"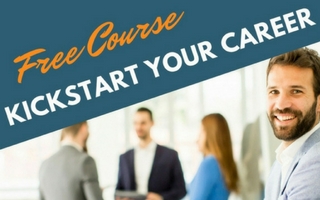 Some positive affirmations to start your day:
I have all I need to make today a great day
I can handle any challenges that occur today
I will make smart decisions for myself today
I am looking forward to making a positive contribution to this day

Focus on your positive affirmations and start to create the life and career you deserve now! If you have affirmations that work for you, do share them in the comments below and inspire others too.
To Kickstart Your Career in 2018, take this free kickstart your career podcast course and be inspired to make your 2018 goals a reality.
Want some guidance on how to make 2018 your best year yet? Speak to one of our consultants today!