You are here
Your guide to the different types of business attire
In a modern workplace, the term "business attire" can mean anything from a full suit to jeans and a t-shirt. However, if you want to fit in and be respected, it's important to adhere to the business dress code at your workplace, whether it be formal business attire, smart business attire, or casual.
You don't need a written dress code to get a good sense of what's appropriate at your workplace. Start by looking at employees in similar positions as you, or your boss, to see what they wear on a daily basis.
Also, remember that the dress code may be dictated by what you'll be doing on a particular day. If you're meeting with a client or attending a special event, you'll probably want to adhere to a more formal business attire dress code. You'll also want to pay particular impression to dress code if you're interviewing for a job. After all, first impressions count!
If your workplace does have a specific dress code, here's a visual rundown of what different types of business attire look like.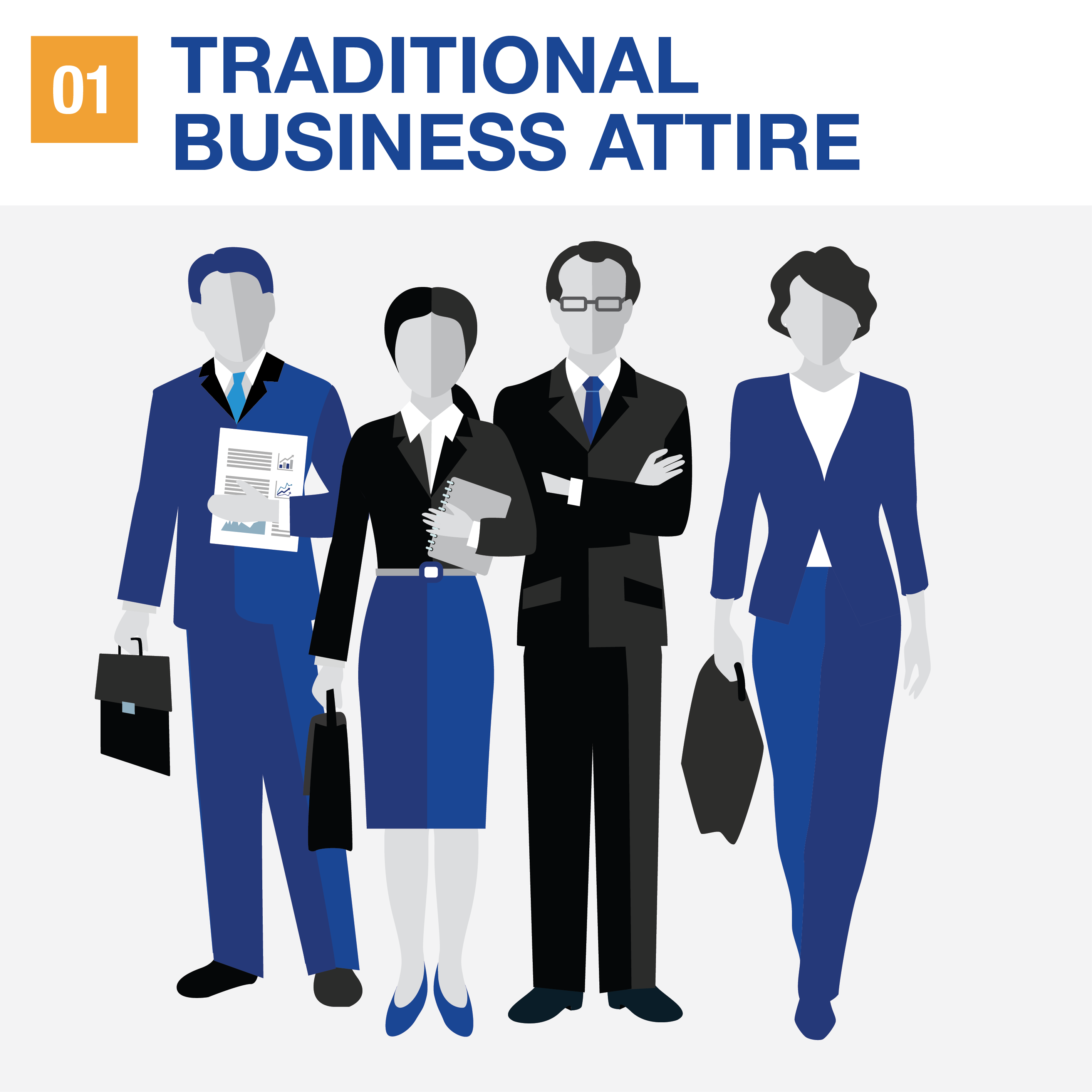 Formal business attire for men
Men in a formal workplace are typically expected to wear a dark- or neutral-coloured suit with a tie and dress shoes:
Dark or neutral-coloured plain suit or pinstripe suit
White or light-coloured collared shirt
Conservative tie
Cufflinks
Leather belt
Dress shoes and plain socks
Formal business attire for women
Women's formal business attire usually involves wearing a conservative suit with a plain collared shirt or blouse and smart shoes:
Dark or neutral-coloured suit
White or light-coloured collared shirt or blouse
Skirt at knee length or pants
Stockings or tights
Black or neutral-coloured closed-toe smart shoes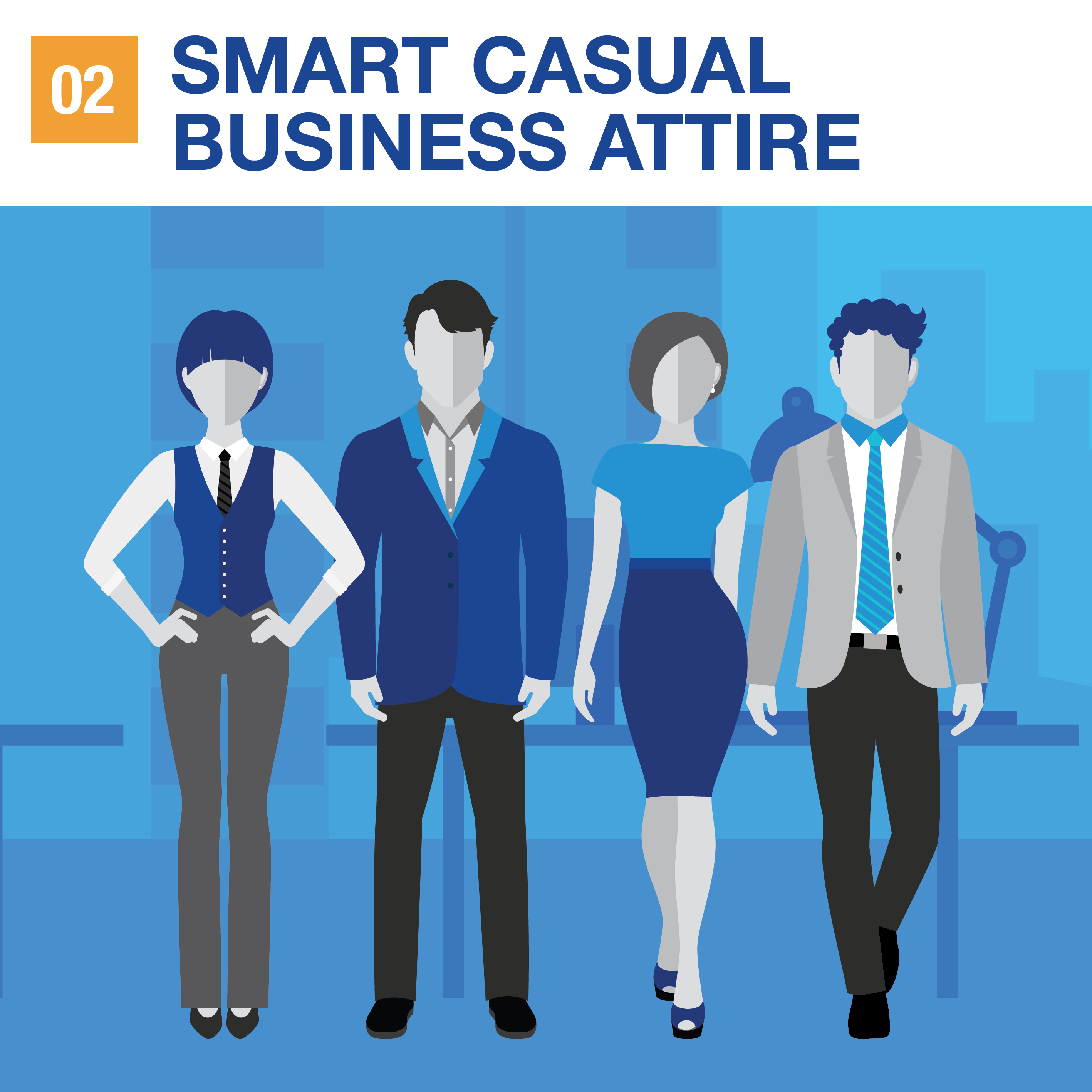 Smart casual business attire for men
Smart casual business attire is slightly less formal, but still requires men to look professionally presentable and wear well-tailored clothing like button-down collared shirts and a blazer or jacket:
Smart jacket or blazer
Button down shirt in plain colours or patterns (no tie required)
Trousers or chinos (don't have to be the same colour as the jacket)
Brogues or oxfords
Smart casual business attire for women
When it comes to smart casual business attire, women should look neat and presentable but can also wear brighter colours and bolder clothing:
Coloured or patterned blouse
Bolder jewellery
Cardigan or casual blazer
Neat pants or skirt in different colour combinations
Dress at knee length
Closed or open-toe smart shoes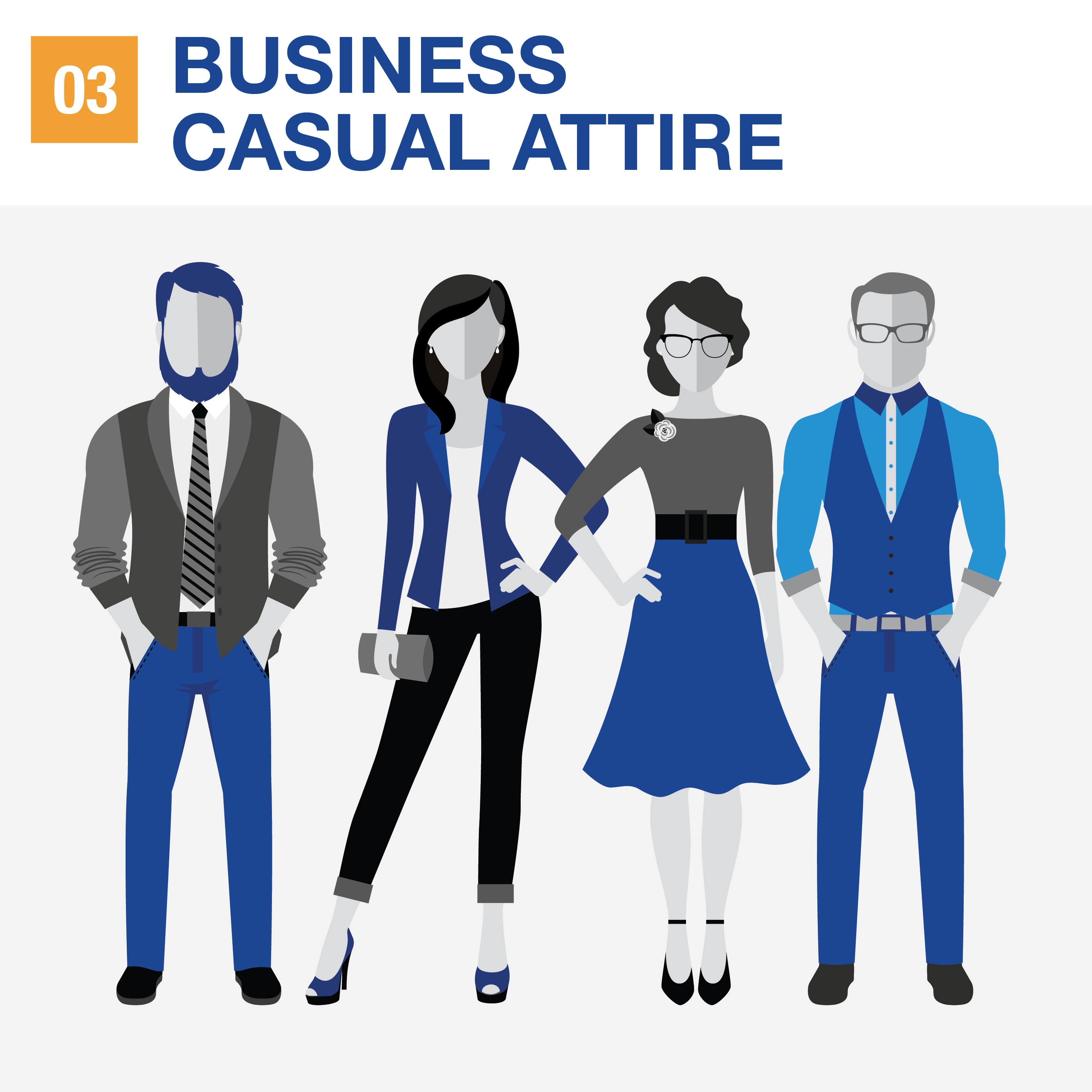 Casual business attire for men
Although you might think a casual dress code gives you free reign to show up to work wearing your favourite hoodie and sweatpants, it's still important to look professional with neat jeans and clean shirts or jumpers:
Neat t-shirt, casual collared shirt or jumper
Dark denim, chinos or tailored shorts
Tasteful sneakers or loafers
Casual business attire for women
As is the case for men, women should keep professional clothing clean and neat – even if it is a casual workplace. Stick to tidy t-shirts, jumpers or blouses and dark denim or a well-fitted dress:
Neat t-shirt, jumper or blouse
Dark denim jeans, mid-length skirt or shorts
Tasteful sneakers or sandals
Get prepared for the next step in your career at our career advice hub.