You are here
The people skills required for your business transformation
As a result of continuing digital disruption, having a clear strategy, robust frameworks and processes are crucial factors to get right during a business transformation journey. But it also comes down to the individuals and collective team. The people who are leading and driving the project need to possess certain skills and qualities in order for the transformation to be a success at every stage. Particularly at the beginning.
At the recent Michael Page Finance Women in Leadership networking panel event in Sydney, Julia Strelitz, Partner in Finance Consulting at PwC explained while bringing in external consultants are generally part of the process, businesses must first look within their teams. By doing so, they can identify ideal individuals to take on the journey.
"You need to ask: Who are the right people to pull out of their business-as-usual to put into your transformation team? And what are the skills you're actually looking for?" Strelitz said.
Identifying your champions of change
The challenges around having your team modify what was previously the norm and be open to embracing change cannot be overlooked.
A curious mind is therefore crucial and one of the top qualities leaders are looking for, according to Carla Webb-Sear, CFO at Network Ten.
"Someone who's got an open mindset and is curious about doing something different, paired with having a proven track record of delivery in the organisation but not necessarily in the space we're about to do it in. I wouldn't rule them out if they weren't experienced in digital, for example," Webb-Sear said.
"It's more that they need to bring others in the organisation along for the ride."
Renee Duffy, CFO at ACM of Fairfax Media also echoed the need for curiosity, in order to champion business transformation. From a media skillset however, technology experience is necessary.
"Because we're changing what our business partners want to do, it's driven by our business needing information right now – they don't want it next week," she noted.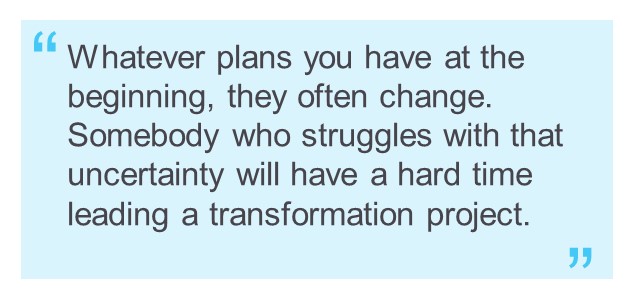 But ultimately, it comes down to having trust and confidence in the changes about to take place.
RELATED: Business Transformation advice for 2019
Sarah Alder, former CFO at Fox Sports explained: "I think the ingredient to success, once you've determined they're open-minded and curious, is that they really believe in the transformation. You cannot have people in the team doing leadership roles or driving the transformation if they're not positive and not really believing in it.
"You've also got to ask yourself that, 'It sounds like a great personal and professional opportunity but do I really believe in it?' Because if you don't believe in it, how are you going to drive and help everybody else to believe in it? That would be my litmus test."
Strelitz added individuals who are comfortable with agility and flexibility are also highly beneficial to the transformation journey.
"Whatever plans you have at the beginning, they often change. Somebody who struggles with that uncertainty will have a hard time leading a transformation project," she underscored.
Agility and flexibility is also true for the leaders of the project, Carla Webb-Sear noted.
"How quickly everything changes is the reality of the circumstances you're working in," she said.
"What I've observed often is people in leadership roles want to be authentic. So they don't want to stand up to say something but then later change their mind. But you need to be comfortable in knowing you don't have all the answers."
Having the right capabilities and resources in place
Identifying the skills the team needs now and how to go about picking the right people comes down to a strong understanding of your business capabilities.
Webb-Sear shared: "The advantage of having already done some pre-work in terms of succession planning and mapping out people's capabilities in the organisation will make the process a lot easier.
"It becomes difficult when you don't know who your key talent are or what your risk areas are because you're flying blind – for example, we asked everyone what they did in their day job and tracked it all, only to realise we had very expensive people doing very junior tasks.
"Also there were some people who were comfortable doing that and hated the concept of business partnering – they didn't want to be called an analyst or a business partner – while some preferred to sit at their desk and not have to interact with the business."
She explained part of what is being tested when it comes to business capabilities is having a strong sense of the roles that you want to create in the transformation team, and then figuring out the gap between people's comfort levels and abilities.
PageGroup Associate Manager Jenny Zhao with Carla Webb-Sear, Sarah Alder, Renee Duffy and Julia Strelitz.
Strelitz echoed the same sentiment when it came to identifying capability gaps but also stressed the importance of training people.
"The wonderful part of business transformation is upskilling your team and re-training them," she said.
When it came to resources, the panel recommended the following ideas to assist leaders personally when on a business transformation journey:
Myers-Briggs type indicators, and personality and communication styles assessments
Executive coaching sessions
Programs and events run by recruitment firms
Read and watch experts such as Connie Henson and Brené Brown who focus on agility, resilience and courage
If you're ready to explore Finance roles, or have specific hiring needs, contact our specialist Finance team today.
For opportunities in all other markets and industries, contact us here.
RELATED: The Future of Finance: 8 key drivers of change in Asia-Pacific