You are here
CFOs and the evolution of the NFP sector
For Chief Financial Officers (CFOs) of not-for-profit (NFP) organisations, maintaining the business's cause and people while equally streamlining its finance function continues to be top of mind.
It's a key challenge amid the backdrop of NFPs needing to also navigate commercial change, while still upholding its values.
This transformation was discussed in detail at a Michael Page Finance Executive Forum held in Parramatta, where panel members shared insights on "finance as a service" and shifting from a NFP to a profit-for-purpose mindset.
The forum also examined the makeup of modern finance teams and why past thinking must be challenged.
Jessica Priebee, Associate Director at Michael Page opened the event by acknowledging the changes occurring across the NFP sector.
"I have been recruiting across the broader social service sector for 9 years and there have been waves of change throughout. However, more and more, I am being asked about the commercial perspective and also asked to seek out different talent to ensure the organisations I partner with are ready for changes to come," Priebee said.
Tharani Jegatheeswaran, Social Impact Consulting Partner at Deloitte Australia said its dedicated Consulting practice supports a lot of NFPs on their transformation journeys, particularly as the sector navigates the impacts of the National Disability Insurance Scheme (NDIS), changes in funding, and Royal Commissions.
"We are seeing significant changes across the sector. The exciting part however is seeing leaders like those on our panel who are utilising the finance function to drive a transformation agenda and to support their organisations in making strategic choices to achieve profit-for-purpose," Jegatheeswaran said.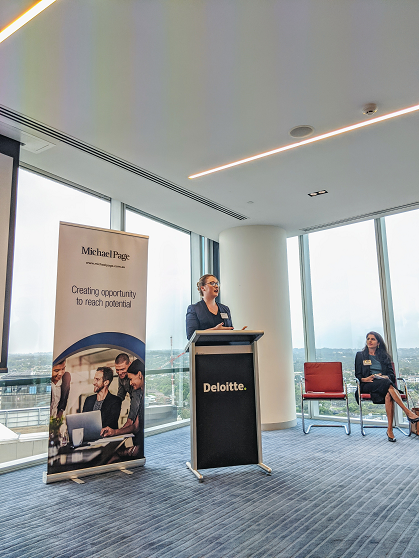 Jessica Priebee, Associate Director at Michael Page opened the discussion at the Michael Page Finance Executive Forum.
Strengthening finance business partnering
Business partnering essentially is the ongoing consultation with stakeholders and others in the business to navigate and achieve their highest value priorities.
According to Amanda Thomas, CFO at The Northcott Society, finance is a service to the business and should be viewed in this way when approaching the challenges faced by sector.
"It becomes more acute in a NFP though, because when you are a service to the business, it's very important to have all my staff interact with the business, be seen as reliable and keep up our reputation," Thomas explained.
"I encourage my teams to talk to key people in order to understand their perspective. Have guest speakers at your team meeting to give you their perspective of their function. Because even if you think you know, it can be very different coming from them and we often have 'a-ha' moments where, for example, you realise certain processes are taking up too much time.
"So my approach for NFPs is to seek to understand the audience – and finance will slot into place."
Mark Twomey, Chief Corporate Services Officer at Ability Options, added that by pulling people into the wider business, they become less afraid of change and start to embrace it.
"Engage your staff but don't overcomplicate it – simplify your systems and question if you really need that report or, is that piece of data actually critical and can you analyse it?" he said at the event.
"For us, the issue now is if can we do it quick enough to satisfy the business."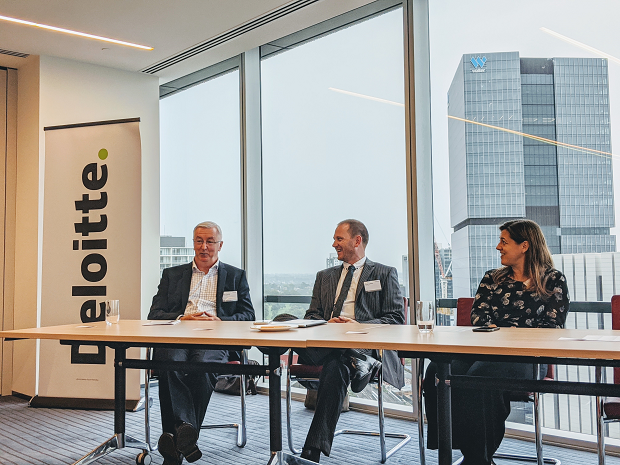 The panel: Mark Twomey (Ability Options), Scott Griffiths (Fresh Hope) and Amanda Thomas (The Northcott Society).
Embracing a profit-for-purpose mindset
In addition to ingraining business partnering into finance teams, Twomey underscored the importance of firstly understanding that NFPs are businesses.
"Ability Options employs over 1200 people and this year will turn over more than $100 million – by any stretch, that's not a small organisation but we still think, act and behave like we are," he said, adding that this perception has started to shift.
"I don't like 'not-for-profit' because it's a misnomer. We can't work on no profit because we won't survive – you can't invest in IT, infrastructure, assets, staff training and development.
"We are profit-for-purpose."
Twomey explained finance has helped with the evolution by ensuring that the business purpose was front and centre of every decision and change made by finance.
"It's saying, 'this is our mission and vision, and we put our people first', that way, we roll any business changes through these values," he said.
"Now, people in the business come to us to ask us how they can get additional staff, how they can do things differently or change what they're currently doing."
Scott Griffiths, CFO at Fresh Hope also endorsed the view of profit-for-purpose to be able to invest back into your systems.
"One thing you need to allow for is saving for a rainy day – Coronavirus is on our doorstep so some of our services may need to go into lockdown over the next few months. We need to ensure we have a buffer for these sorts of events," Griffiths noted.
Strategy for finance teams: who are you bringing in and why?
Around the question of recruitment for finance teams, many NFPs have experienced changes to become less transactional and more analytical. This shift has required good systems to be in place, Griffiths said.
"The people you employ now must be able to add value and can partner properly with the organisation," he said.
Thomas added that she recruits based on attitude and aptitude.
"I'm not so worried about people's past experience – obviously we test for certain skills – but I want to know what their attitude towards the business is," she revealed.
"Also, whether they've got the aptitude to apply themselves to the role. That's far more important to building a team. Your team should be a group of people who want to get involved and build their skills within the organisation, not just in their role."
Twomey echoed these qualities: "Attitude is key. Get the right person who's going to 'turn on' and not just 'turn up' for work. They should question everything we do, rather than say it's always been our policy.
"Get that person who has the skillsets but who wants to do just that little bit more – and combine that with an understanding of the business because it will become a symbiotic relationship."
Furthermore, Priebee highlighted an increasing interest in bringing in skilled temporary or project workers.
"That is, utilising the right talent for the right tasks, freeing expert internal staff up to add value and ensuring there is flexibility when going through change," she said.
"In this sector, industry experience is valuable but as our panel mentioned, the right skills and attitude can be hard to find. So expanding the search to include specialists from other industries is a great idea. This gives you the opportunity to get a different perspective on challenges, as well as come up with new solutions."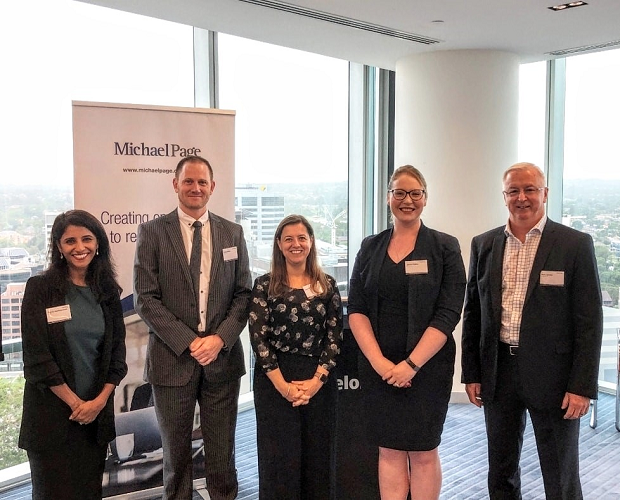 Tharani Jegatheeswaran (Deloitte Australia), Scott Griffiths (Fresh Hope), Amanda Thomas (The Northcott Society), Jessica Priebee (Michael Page) and Mark Twomey (Ability Options).
Challenge past thinking
On the issue of thinking outside of past policies, Griffiths said this might mean making tough calls, such as Fresh Hope's decision to close a division that was experiencing a decline.
"Our organisation had been providing homecare services for 60 years but just because that's what we've done for a very long time, doesn't mean we need to do it in the future. The rationale was to focus more on what we do really well," he explained.
"One of the factors that helped during this period was having the support of our board to navigate our way through that change. We were generous with our redundancy packages, we approached another provider to move a number of staff and consumers to, and we sought external help for things like managing consumer expectations.
"I encourage you to challenge that thinking, so that you can have your people doing things that actually adds value and provides purpose."
As the NFP industry continues to evolve and grow, networking and sharing information will become more crucial.
Michael Page and Deloitte were pleased to be able to facilitate this forum and encourage professionals from the sector to connect with us on LinkedIn to continue the conversation, or to be involved in future panels.
Contact Jessica Priebee or one of our specialist recruitment consultants here.