Perth, 10 July 2019: PageGroup Australia is pleased to announce its support for local Aboriginal artist Kevin Bynder, as part of our commitment to the initiatives in our 'Reflect' Reconciliation Action Plan (RAP).
Endorsed by Reconciliation Australia, the RAP is a promise of PageGroup's commitment to contribute to a united Australia, which respects the history, culture and values of Aboriginal and Torres Strait Islander peoples.
The resulting launch of an internal initiative driving inclusivity of Indigenous peoples across all aspects of the business comprises a key initiative on our Reconciliation journey: promoting awareness and understanding of what NAIDOC means, and celebrating NAIDOC Week during 7-14 July.
As part of our first RAP, Western Australia representatives of its internal committee met with Kevin to discuss their concept and vision for the piece, which was to incorporate local industries linked together with the recruitment firm's purpose of Changing Lives.
The framed artwork, titled Changing Lives - Whadjuk Nyungar Boodja, will proudly hang in PageGroup's Perth office.
The painting is of the Whadjuk Noongar Region, also known as Boorloo.
The centre shows the combined colours of PageGroup, which consults with local industries including Mining, Infrastructure, Health and Government.
"We are delighted to have worked with Kevin to produce Changing Lives - Whadjuk Nyungar Boodja. It's important we make good on our RAP promises by supporting local Aboriginal artists as it's one way we can connect with Aboriginal and Torres Strait Islander cultures," Brodie McDougall, WA Regional Director at Michael Page says.
"Kevin will formally unveil his artwork during NAIDOC Week."
These are shown in the artwork, all connecting to PageGroup:
The ochre reds represents mining, the greys are infrastructure, the blue is government, and the yellows and watermelon colour represent the biggest industry, health.
The black swan (Maali) is surrounded by its nest, representing the state of WA.
The thick grey lines coming off the yellow and watermelon are the railway track, while the ochre dots depict mining and infrastructure.
The two boomerangs represent all the companies with which PageGroup work, representing hunting, survival and culture.
The top green of the artwork illustrates the vineyards of the Swan Valley, and the bottom are the hills of the Darling Ranges.
The people are all represented by the characters found around the illustrated industries.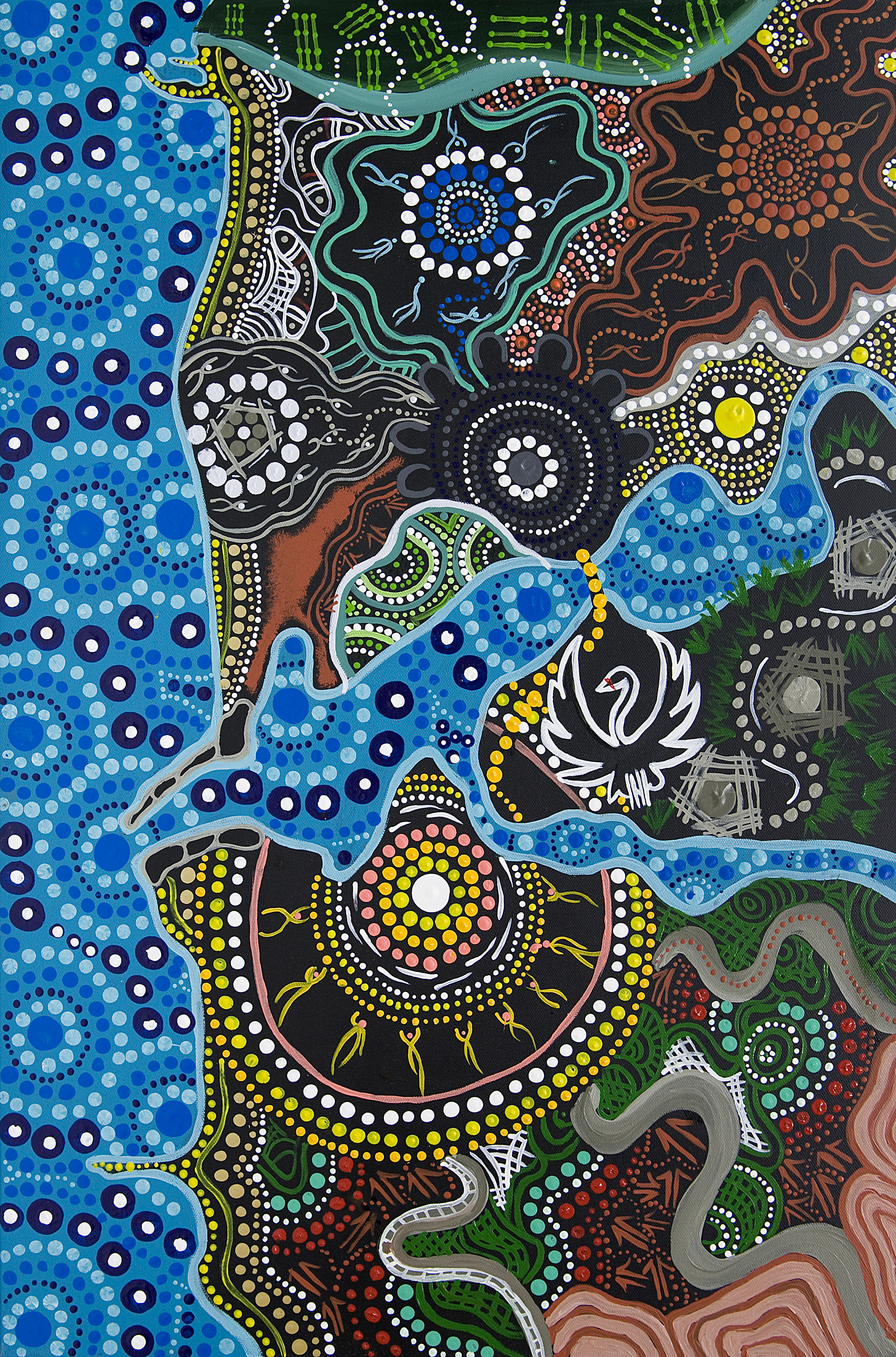 Changing Lives - Whadjuk Nyungar Boodja by Kevin Bynders.
About the artist
Kevin Bynder was born in 1975, in Perth, to a Whadjuk-Yuet Nyungar Mother and Badimia-Amangu Yamatji Father. He began painting at the age of 23 and lived in a small town in the north-west of WA before moving to Broome where he had his first art studio.
Kevin works for a Catholic College in Perth where he teaches art to Indigenous students from remote communities. A well respected teacher, his students recently won first prize for their submission in the Catholic Education of WA's "Songlines upon the Earth" Art Competition.
Over the past few years Kevin has sold hundreds of pieces of art both across Australia and internationally, and has created the artwork for many organisations' Reconciliation Action Plans.
Kevin has also been commissioned by over 30 sporting clubs and associations across the country, to create their uniforms. Some of particular note include AFL teams, West Coast Eagles and Port Adelaide, where Kevin designed their Indigenous round jumpers for 2018.
A community-minded person, Kevin has donated hundreds of pieces of his artwork for fundraising purposes over the past couple of years.
Kevin is a well-known identity in the Aboriginal community in Perth, often asked to speak at events and take part in panel discussion surrounding Indigenous culture. He is proud that his children are beginning to walk in his footsteps as accomplished artists.
****END****