You are here
5 common social media mistakes and how to avoid them
The majority of hiring managers search social media when assessing potential candidates, so it's important not to damage your chances of being contacted or offered an interview because of social media mistakes. Here are five top errors to avoid:
1 – Not having a social media presence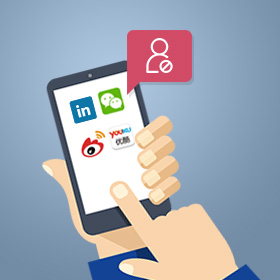 Australians love social networking. A Sensis report from last year found that 95% of respondents had used Facebook in the past year, and 26% accessed a social media account more than five times a day. However, the same survey found that only 24% of respondents had used LinkedIn in the past year – and if you're in the other 76%, you could be missing out on job opportunities.
Globally, recruiters are turning to social media to identify top performers and source future talent. Michael Page consultants across all industries use LinkedIn as a standard in addition to more traditional methods of sourcing and contacting prospective candidates, but will also typically check other social media such as Facebook, Instagram and Twitter.
What to do instead
Have a professional, up-to-date LinkedIn profile. Ideally, this will have evidence of your skills, achievements and experience. If you're already a social media user, it's a good idea to use your profile to communicate your professional interests.
For example, if you're joining professional interest groups on LinkedIn, sharing tips and advice related to your field or industry, and engaging in conversations around the challenges of your profession, you're far more likely to be referred through your network or noticed by a recruiter or hiring manager than if you only use your profile for personal use.  
2 - Lying or exaggerating about prior experience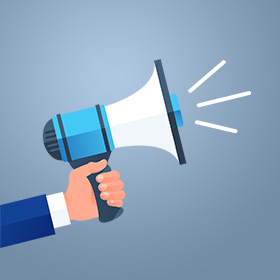 Recruiters and hiring managers see hundreds of resumes a day, and can tell when if a candidate is exaggerating their experience. Social media will often be used to conduct a background check on your resume, for instance, on LinkedIn, where your former colleagues will also be visible and contactable. Don't forget that recruiters have extensive networks, so any embellishment might easily be found out in the future.
Additionally, recruiters may also look for certain attitudes online – Associate Consultant Wenyu Li says that someone assessing a candidate for a corporate services role might look for a cautious attitude and stability, whereas for a customer-facing role, they might consider how they engage with friends through social media, so consider how your online personality might be different or similar to your professional personality.
What to do instead
Be honest about job titles, responsibilities, salary, results and positions on your resume and you won't have anything to worry about.
Having consistency across your profiles and CV is also important – otherwise, it may lead to confusion and hiring managers could get a negative impression of you. Using a real, recent picture that hasn't been altered is also the professional choice.
3 - Being negative about a current or former employer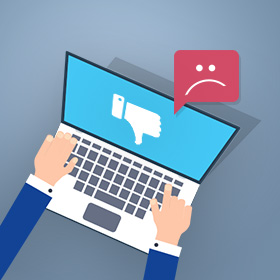 Hiring managers aren't just looking for someone with the right skills, but also someone with the right attitude and fit for their team. A negative attitude will send employers away, as organisations want to hire people who will work well within the business and the team, respecting their managers and colleagues and bringing a positive mindset to the role.
What to do instead
Never complain about your job or boss online – and if you have in the past, conduct your own social media audit and delete or hide any old posts that you wouldn't want a prospective employer to see.
4 – Unprofessional posting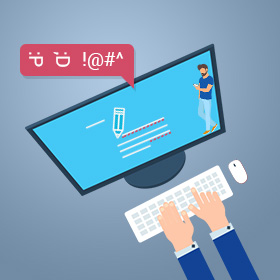 Organisations are looking for candidates who can represent the company positively everywhere they go – whether that's in the office with colleagues, in meetings with clients, or online. If you don't present yourself on social media the way you would in a professional situation, you may be passed over for a job interview.
What to do instead
Put yourself in an employer's place and imagine choosing between two equally experienced candidates. If one shows inappropriate social media behaviour and the other doesn't, who would you hire? Unprofessional posting includes swearing, slang, internet acronyms and abbreviations, but can also extend to spammy comments, inappropriate images (your own or other people's), plagiarism and 'trolling'. Remember that nothing you put online is ever really private.
5 – Unclear, incomplete or incorrect information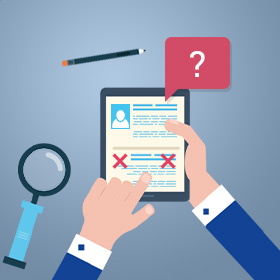 You may be missing out on being contacted for a role if your profile is poorly filled out. Sonia Li, Human Resources & Legal Recruitment Manager at Michael Page says, "if the content of the profile is not detailed enough, not recently updated or has errors, consultants will look somewhere else because they won't know enough about your current role, career aims and experience."
Rachel Lai, Financial Services Manager, adds: "Not having contact details, title or company name, a context for your work and responsibilities is an issue that I see often. And if I see terrible spelling – or I can't understand someone's personal summary – I will rarely contact that person."
What to do instead
 If your profile is quiet and you haven't updated it to reflect your recent wins, career ambitions, connections and professional development, make some time to do it as soon as possible. Make sure you use clear and concise language, too – and get a friend to check your spelling.
To find out more about jobs in your industry, contact one of our specialist consultants today.
Summary:
Most recruiters and hiring managers now factor in social media while vetting candidates. There are a number of behaviours that could jeopardise your job potentials, such as:
Not being active on any social media
Using unprofessional language
Being overly negative
Lying about your experience
We've listed out several of these behaviours, and also what you should be doing instead.