You are here
A leader's role in a high-performance team
A team performing at its full potential and making wins typically requires the guidance of a leader – the person responsible for getting the best out of each individual member and achieving success as a collective.
At PageGroup breakfast events recently held in Sydney and Parramatta, ex-Sydney Swans premiership player Nick Smith and former Wallaby and Queensland Reds premiership winner Beau Robinson shared the highs but also the challenges of their careers – many of which can make or break a team.
The lessons they revealed included relevant takeaways for the professional business world.
"Why do we look to sports for advice around leadership, teamwork and culture? In the corporate world you can have 10 competing firms all 'succeeding' but in sport there is one loser and one winner. What distinguishes consistently successful teams from the unsuccessful is the strength of their culture, leadership and teamwork," Smith explained.
"With sport and business alike, all teams have a strategy to maximise profit/performance. For us, it's come down to things like our game plan, training techniques, medical treatments et cetera."

Ex-Sydney Swans premiership player Nick Smith.
Smith said often, strategies were very similar across competitors.
"What makes the biggest difference is the commitment and motivation of employees to demonstrate their agreed values in achieving their vision; their culture," he noted.
"In the corporate world, it's typically annual or bi-annual performance reviews. Surely if someone's performance can be improved, we should tell them immediately."
Robinson highlighted that a happy or great culture doesn't necessarily equate to a high-performance culture.
RELATED: Rugby stars on the cornerstones of team success
"The difference is focusing on the results," he said.
"Everyone likes the sound of having high performance teams but the work it takes to get there is a whole other journey. As a leader, you've got to be willing to participate because the energy, the mindset and positivity you bring impacts everything and everyone."
Smith and Robinson went through key factors for leaders to use as a framework in order to achieve a high-performing team level.
Three aspects to great leadership for high performing teams
Leading: knowing where you're going and being the leader. Everyone must be clear on where the team, business or organisation is going and how you're going to get there. Many leaders tell you where you're going but they don't get out in front to lead.
People awareness and management. Have a better understanding of yourself such as what your strengths and weaknesses are, as well as each of your team members.
Developing relationships and developing your team. Your whole ethos is about the team – move your strategy and focus from someone moving the ball (in a footy game) to, "How can we help someone else?" Sometimes we try too hard to change things individually rather than creating change as one team.
Smith also underscored that leaders should never be above improving themselves.
"Setting the scene for the leader to receive feedback also sets this tone for your business where anyone can provide feedback to the team, and anyone can be given feedback," he noted.
"This happened when I played for the Swans where we called out to our captain if something wasn't aligned to our values – and that's how we created such a strong culture, which endured.
"It's not just the top-level or the leaders doing it; it was everyone in the team."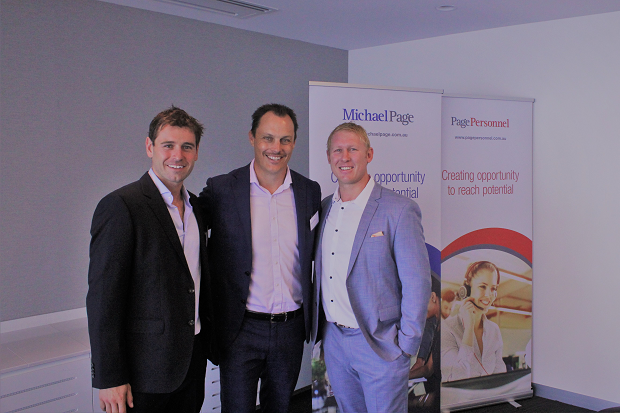 Matthew Gribble, Regional Managing Director of PageGroup Australia and New Zealand (centre) with Nick Smith and Beau Robinson.
Once everyone in the team is clear on the standards and expectations, the goals of the team and their role in achieving them, it's imperative that there is an environment of commitment, honesty, accountability and trust, according to Robinson.
"This starts with the leaders holding each other to these standards. If it doesn't occur with your leaders, you can't expect it to occur anywhere else in your organisation," he said.
"Leaders are only judged by their actions, not their words. To lead is to lead by example."
Commenting on these insights, Matthew Gribble, Regional Managing Director of PageGroup Australia and New Zealand said the two men had reached the pinnacle of their respective sporting codes and therefore their advice in the depths of the challenging times was highly relevant for businesses today.
"There are lessons learnt from their success and accomplishments but I think what's equally important are those difficult moments you face along the journey – what you take out of that experience to propel yourself forward as an individual, as a leader and as part of your team," Gribble said.
"At PageGroup, our purpose is to change lives. We do that through recruitment but we also like to play a broader role in the Sydney business community by hosting events like this one.
"If we're going to be leaders, we need to be relentless in our focus on constantly improving our organisation's culture because that's the foundation we rely on, and look to, when we're in the depths of more challenging times."
If you're on the search for a new role, get in touch with one of our specialist recruitment consultants here.
RELATED: Sustaining peak team performance: Top tips from former Aussie cricketers