Have you ever wanted to work in the UK? Or move across the Tasman? The benefits of international work experience are far-reaching.
From an employer's perspective, hiring managers are looking for professionals who have been exposed to more advanced processes and structures in international jobs. A good example of this is Australian companies seeking
digital and e-commerce specialists
, from more established markets like the UK. Because the local market is younger, digital professionals who have spent their entire career based in Australia may lack the experience of their overseas counterparts. It's a similar story for
FMCG candidates
who have worked in the big multinationals in the UK and Europe – their experience is looked upon very favourably in the Australian market.
Another instance where companies will put a call out for overseas professionals is to fill skills shortages. In New Zealand, for example, candidates with experience in
property
and
construction
, oil and gas and technology are currently in high demand as there isn't enough local talent to fill available roles.
Right now, New Zealand is a popular location for skilled foreign workers due to the strength of its economy and the entrance of many international firms. According to Statistics New Zealand, as of May 2018, migrant arrivals had reached a new annual high of 130,200. We are also seeing more overseas professionals choosing New Zealand over Australia due to Australia's more stable economic climate.
Making the decision to work abroad forces you to step outside your comfort zone, which opens up opportunities to develop new skills and have new experiences.
That said Australia remains a desirable destination for those looking to work overseas, especially for professionals from the UK. The recently introduced Temporary Skills Shortage (TSS) visa enables professionals with desirable skills to live and work in Australia for up to four years, depending on the terms of the visa.
With some global markets being challenged at the moment, there is no shortage of roles for good international candidates.
With that in mind, it's worth considering the skills to be gained from international work experience.
Here are some of the ways going global can help you take your career to the next level.
Improved communication skills
Working with people from other backgrounds exposes you to different working styles, forcing you to develop stronger communication skills and confidence as you progress your career. In multinational companies, for example, teams are usually made up of professionals from various parts of the world, giving you the chance to develop cross-cultural communication skills.
Take advantage of global networking opportunities
Accepting a role in another country will help you to establish a network of valuable contacts. This will help you stay abreast of the latest developments in your field as you progress your career, especially if your overseas role is in a more developed market.
International experience = a competitive edge
Whether it's an international internship or a longer-term role, overseas experience on your CV will give you a valuable competitive advantage when you return home. A global perspective is highly regarded by employers, which will open you up to excellent opportunities into the future.
Overseas work experience leads to life experience
The lifestyle factors of working overseas are not to be underestimated. You'll get the chance to see new places and make new friends. After all that international networking, you might find yourself taking up new hobbies and sports. Plus, we actually see a lot of our candidates meeting their partners in their adopted country!
Open yourself up to bigger and better international jobs
The "foot in the door" rule especially applies to working overseas, because once you can show that you have the determination and commitment to make that move and stick it out, future potential employers will have more confidence in you as a prospective employee.
Showing that you have knowledge of a local market from previous roles in the country is also a huge advantage when applying for new jobs, which means you have greater choice in picking and choosing what you want to do. So, even if your dream job is on the other side of the world, taking those steps overseas to get there increases your chances of securing the role – even if it isn't for a few years.
As with most positive career moves, working internationally can help you develop both professionally and personally, and once you know your way around the international jobs market, the world is your oyster.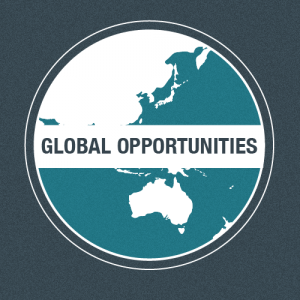 ABOUT OUR GLOBAL OPPORTUNITIES TEAM
PageGroup's Global Opportunities team places hundreds of qualified professionals in roles across the UK, Australia and New Zealand each year and are one of the very few dedicated global recruitment teams in our region. The Global Opportunities team works closely with the Michael Page and Page Personnel teams in order to identify industry needs and market trends, and to assist high-quality candidates with their international career search. The team sources 1,000 active global candidates across the region each year.
Summary
International experience can have huge benefits for your career, including:
Improving your communication skills
Building a global network
Helping you find fresh ideas
Gain a competitive edge
Chance to do something different
Join over 60,000 readers!
Receive free advice to help give you a competitive edge in your career.