You are here
Who needs a CV? The digital future of recruitment
It's an interesting time in recruitment, to say the least. Social media has changed the way we do business – in a good way. Take LinkedIn for example: The professional networking platform has become a valuable business tool for recruiters, giving them faster access to the best professionals. And at Michael Page, we now utilise LinkedIn in our online applications by allowing applicants to enter information via their already established online profile.
That said, 'old fashioned' resumes and CVs still hold an important place in the recruitment field, it's just that now they are accompanied by a host of digital possibilities as well.
Read on to learn more about the importance of a resume in the current (and future) digital world.
What's the difference between a CV and a resume?
Technically speaking, a CV (curriculum vitae) is a detailed, in-depth document. It usually covers at least two pages and includes not just your employment history, but also additional extras such as education, awards, publications, and other accomplishments. A CV does not usually change from one job application to another, which is why an accompanying cover letter is also important.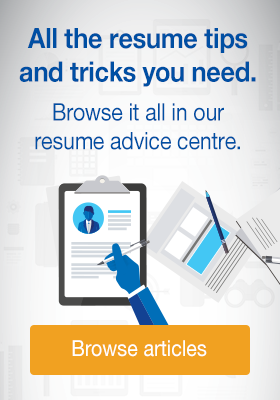 A resume, on the other hand, is a more concise version. It's usually only a page or two and covers only the salient points of a worker's career and achievements. Plus, it is customisable and will be adjusted from one job application to another.
The CV vs. resume difference is also in geography. North Americans will typically use a resume in most scenarios, whereas in Australia and New Zealand (as well as the UK), a CV is the norm.
Why a CV is still important
The traditional CV and cover letter remain the best way to apply for the majority of roles here in Australia/NZ. This is because a CV allows a prospective employee to get an idea of who you are, your skills and your background in a digestible manner, and because it's tangible.
How on-the-job skills play an important role in today's digital age
Thanks to the rise of digital, there are some scenarios in which a CV diminishes in importance compared with other factors.
In the IT space, demonstrating your on-the-job skills can land you a role without ever having to submit a CV. For example, Google now hires its developers via Code Jams. And in certain fields, such as digital marketing, an active Twitter profile and making the right connections can lead to job offers.
In creative fields, applicants are increasingly thinking outside the box to get potential employers' attention by integrating their skills into their CV: There's the designer who printed his resume on a custom-brewed beer and used a QR code to direct prospective employers to his online portfolio, and the copywriter who bought ads via Google AdWords that showed a personal message from him when top NYC creatives Googled themselves.
Although these are brilliant examples, they certainly don't represent the norm. Not everybody has the skills to put together a creative application and not every hiring manager is impressed by these out-of-the-box job applications. That's why it pays to thoroughly research your employer before making such a move, and always include a standard CV.
How can you maximise your CV and online presence?
A strong online presence is vital if you want to get noticed. You don't need to set up a website or use QR codes, but you do need to maintain an up-to-date LinkedIn profile that demonstrates your skills. Bear in mind that future employers will also look at your Twitter and Facebook profiles to build a wider picture of who you are, so use privacy settings and be mindful of what you share on these platforms.
Tailor your CV to each role, and use your job application to show that you are genuinely interested in the company with which you are applying. This demonstrates you have done your research on the business and you'll be able to tap into that knowledge and create a compelling application.
In short, the answer is: Yes – you do need a CV in the digital age. In the majority of cases, the best way to get noticed by a prospective employer is to submit a concise and accurate CV that outlines your career achievements and backs them up with facts and figures. Try our CV templates to get you started.
Summary:
Today there are numerous other means of applying for jobs beyond the traditional CV or resume, and many jobseekers are using innovative approaches to attract the attention of hiring managers that don't involve a resume or cover letter at all.
If you're going to use a creative approach to job applications, remember to:
- Maintain a strong online presence, an up-to-date LinkedIn profile and check your privacy settings on other social media
- Tailor your application specifically to the role you're applying for
- Have your CV up-to-date in case it is requested