You are here
Western Sydney story: How Jim Marsden is riding the wave of growth
When Jim Marsden and his older brother John were growing up in the 1950s, rural Campbelltown felt completely separate from Sydney proper. After training as a lawyer in the city, John returned to found a locally oriented practice; Jim joined him soon after. Marsdens Law Firm has grown significantly in the past five decades and services NSW, but its head offices proudly remain in Campbelltown.

"My five siblings and I were raised in a pub in Campbelltown. Growing up in a pub gives you a close affinity with everybody in the town – all manner of people, from the homeless people that used to sleep in our garage from time to time on cold nights, to local doctors and lawyers, to the tradies. It was not an academic environment, but our family would regularly discuss the issues of the day around the dinner table. Nobody was excluded from discussing any topic. We were taught that everyone was equal.
"My older brother John and I both had a tendency towards advocacy, which led us to the law. John started Marsdens Law Group in 1968 and I joined him in 1973. There was never any question of practising law somewhere other than the West. We had a love of the area where we were born and raised. It wasn't about making a commercial assessment.

"We were basically a two-man practice. We set about expanding geographically, primarily in the West and South-West Sydney, then in 1979, we established an office in the Sydney CBD. Today, our main office is in Campbelltown and we also have offices in Camden, Oran Park and Liverpool. There are currently 14 partners and a total workforce of about 160.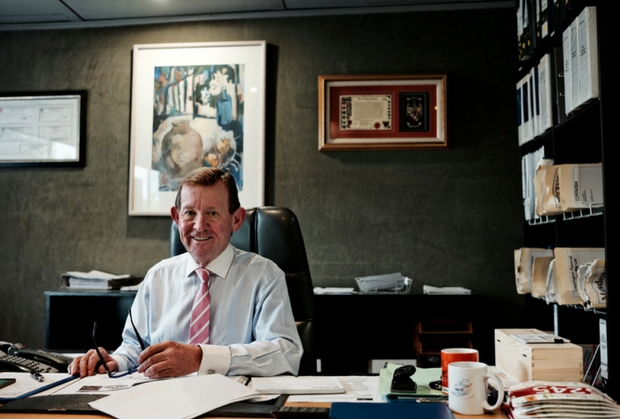 Photo by Jonathan Cami
"When we were starting out, in the late 1960s and early '70s, Campbelltown and the surrounding areas were not exactly cosmopolitan, but they were full of a great mixture of migrant families and people from less fortunate areas who really wanted to make lives for themselves. There was amazing growth in the region, and my brother said, 'We've got to ride this wave of growth.' But that wave we were riding back in the '70s was nothing compared with the growth that we're seeing now. People used to talk about the 'potential' of the West, but it's no longer potential – it's actually happening. And this is just the groundswell. When we start to dig the first turf at the airport [in nearby
Badgerys Creek
], it's just going to be amazing. And I think people realised that.
"A lot of our clients now are significant commercial and property clients, but I never want to lose sight of ordinary people who want basic law delivered at a high standard, so that the young mums and dads who move to the West in the future have got affordable access to good legal services."
ADVICE
Law firms obviously rely on a ready supply of competitive talent. For an SME in Western Sydney seeking to retain a similarly qualified talent pool, what would your advice be?
"The first thing is a good relationship with Western Sydney University. And if you're a law firm, the Law School within the University. Secondly, offer a happy working environment. Thirdly, pay well. And, finally, don't let the good ones go." – Jim Marsden, Marsdens Law Firm
"There's a lot to be said for "going local" in your hiring: including investing time in getting to know local tertiary institutions and offering graduate apprenticeships. This gives you a strong local platform. In 'candidate-poor' areas such as law where there isn't always a ready supply of talent, law firms rely on the ability to hire and retain qualified talent. But ultimately, many lawyers also want to work close to home because it enables them to have that kind of work-life balance, which is all the more important today." – Adrian Oldham, Michael Page
Want to be part of the new wave? Read our next story or speak to a Western Sydney expert today.