You are here
Western Sydney story: Le Ho on supporting young entrepreneurs
The multi-talented Vietnamese Australian Le Ho (she's an entrepreneur, businesswoman, author and speaker) took out the top prize for business in the Western Sydney University 2017 Women of the West awards. Her childhood, on a farm in South Australia, was defined by sacrifice and hard work, and when she arrived in Western Sydney aged 18, she was determined to make a name for herself. In a few short years, she turned a struggling waste business, Capital City Waste Services, into a $10 million success story. Today, she runs Aspiring Promotions, whose mission is to support young entrepreneurs.
"I grew up on my parents' small farm in Virginia, South Australia. My parents were refugees who arrived in Australia from Vietnam in the early 1980s with a limited grasp of the English language. Like many other migrants, they compensated for their lack of language skills by using their practical knowledge from back home to start a business in their new homeland.

"I came to Sydney when I was 18 and I've lived and worked in the West ever since. When I finished uni at age 21, my plan was to start a small business in retail, but within a couple of years I found myself heading a $10 million waste management company. Since then, I've tried to support other migrants and their families to get established in the area.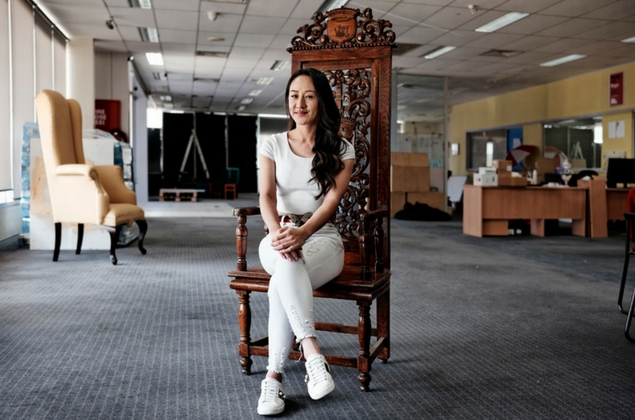 "The region has grown incredibly since I've been here. Western Sydney has become a key arrival point for refugees and migrants – we've accepted many thousands into the community in the past couple of years alone. I think that the migrant mentality of starting a small business from scratch has been a key driver of the growth in Western Sydney – not just in recent years but over the past four decades. The businesses we have here now are strong and resilient.
RELATED: Western Sydney story: Advocating for women in the region
"In my experience, migrants and refugees strive in the workplace because they've overcome so much adversity to reach Australia. In most cases, they don't own anything – they are building a life from scratch. And it's important to remember that refugees feel a great sense of loyalty and gratitude towards Australia, which translates into supporting the Australian economy through work. I came to Australia when I was one and I consider myself Australian through and through. Australia is the only country I know, and for me personally it's really important to give back to the Australian economy.
"The other thing about Western Sydney is that it's such a cool place to live. The eating is great: I've got Vietnamese food, Syrian food and Indian food right at my doorstep. There's also a lot of green space in the West, which many people don't realise, and there's plenty of room here for future construction.
"It's also very central: I've run all of my businesses out of Western Sydney because logistically the new freeways make it very easy to get into the CBD or out to Campbelltown or up to the Blue Mountains. For a waste management business, especially, being connected to the entire Greater Sydney region is key."
ADVICE
In terms of growing and maintaining a competitive team of talent, what fundamental advice would you have for entrepreneurs starting out in Western Sydney?
"Western Sydney is probably Australia's most culturally diverse area, so businesses here have the advantage of utilising the skill sets, experience and knowledge that migrants and refugees bring with them. That said, business owners will find it difficult to get past the start-up stage without a devoted and passionate team to drive the business forward – which is why they need to instil in their staff the same vision and passion that they have within themselves. They should also invest in up-skilling staff: this benefits the business, obviously, but it also benefits the staff because it gives them more pathways for personal growth." - Le Ho, Entrepreneur, Author, founder of Aspiring Promotions
"It's basically always about customer-first. Everything you do needs to suit the customer. What do we need to do internally to create that for the customer? If you have the customer in the forefront, they'll help to curate a business framework. Within this framework, think hard about building a social profile for your leadership, and linking this to powerful messages within the community, messages that speak directly to your customers and partners. You'll then have a platform from which to grow. – Adrian Oldham, PageGroup
Looking to develop your next success story with quality talent? Speak to one of our expert consultants today.