You are here
Western Sydney story: Theo Psychogios on the region's increasing economic confidence
Theo Psychogios has been working in Western Sydney for a decade, and in that time he's seen the area grow up from a place where 'it felt like you were being transported back to the 70's', to the sprawling and commercially attractive hub it is today. Psychogios is Partner of financial advisory services at Deloitte, and co-author of the economic blueprint Shaping Future Cities: Designing Western Sydney. Working from Deloitte's Parramatta offices, he advises government and commercial clients on the value propositions of transformative urban renewal, service delivery reform, and major infrastructure investments in the region.
How do you think Western Sydney has changed since you first came here?
"What I've seen is the obvious physical transformation that the place is undergoing. Towers going up all over the place, old buildings coming down, but more than that it's the new businesses starting to emerge, it's those cafes around the corner, the social impact providers, it's new restaurants coming in. It's all these big brands, you know. Neil Perry is coming to town, Jamie Oliver is in town. Those sorts of things are signals as to how a place is transforming and changing in front of you.
"I very much see Western Sydney as this adolescent child that's starting to grow into its skin. It's starting to bulk up, to get character and it's starting to be more self-confident. And you know that's really exciting to watch and it's exciting to help shape that."
Shaping Future Cities was released in 2015, with a focus on recommendations for building platforms to enable jobs growth, creation of jobs and local employment. Where do you see Western Sydney going now that project planning and the initiatives that were set out are well underway?
"Shaping Future Cities laid down a pretty bold aspiration for Western Sydney, and it was an aspiration that was very much tied to the hopes and dreams of businesses and residents in the area being able to rise to make their contribution in Sydney.
"What we've seen over the last two years or so is of that 200,000 jobs target that was put in place [for the next five years], 60-70,000 are already being achieved now. The economy's been able to continue moving forward. There've been significant investments and announcements made by government that have led to business confidence continuing to grow, and you're starting to see significant housing and commercial developments taking place.
"Western Sydney has a high population of younger people with growing educational capabilities and long working lives ahead of them. We have greater diversity of culture and language which makes these people more relevant to the world both from a technical skill and a social and environmental perspective, and those ingredients are second-to-none when it comes to being a powerhouse for now and into the future.
"It's within these environments that you start to see the real fruits of the region's labour coming to bear. You start seeing more universities established in the area or expressing interest to want to do so because they see the longevity of the economy as advantageous to be around. You're starting to see corporates establish themselves in the area. Costco have set up their national headquarters here. Amazon is starting to set up their presence. They're all really positive signs of the green shoots that the region has been able to put in place."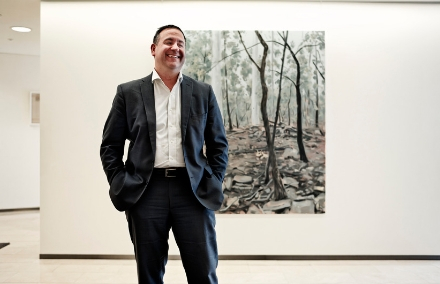 Do you see this shift happening across the board, or do you still think businesses need more evidence of success, a bit more time to make a move?
"No, I don't. There is zero available A-grade commercial property in Parramatta right now. Every time new stock comes along it's sucked up straightaway.
"There are [big insurance companies and banks] like QBE and NAB. There's a holistic move of state government departments coming here, not just because of political decisions, but because it works for their staff, it works for the people they're servicing and that's relevant in how they deliver their portfolios.
"They don't build here on the basis of 'build it and they'll come'. Properties don't get financed unless they've got committed leases unless they've got absolute belief in the pipeline of sale. It doesn't matter where you go, from Penrith and all the way down to Liverpool or to Campbelltown, you have the major tier-one developers, the major global financial investors, putting money into bricks and mortar. They're not doing that if the underlying demand isn't there."
There's a sense that there's a lot of emphasis on the bigger centres like Parramatta and Liverpool when it comes to development. What's going on in all of those 'in-between' areas of Western Sydney?
"Western Sydney was developed to deal with the migrant flow of the 60's and 70's and a lot of its planning then was at the macro scale. It was dealing with town centres and asking 'how we can house these people'. The fine fabric of community that comes about from strip malls and corner shops in other areas wasn't really built in.
"So what's happening now is the people living there are creating that community, creating a sense of place, and councils are playing tremendous roles in making sure that they deliver that sort of amenity and service into a lot of those Western Sydney communities. There's a long way to go because there's a lot of people living there - there's a lot of established suburbs. And many of those suburbs were historically migrant placement suburbs, they were social affordable housing suburbs and they've grown out of themselves and some are still growing out of themselves. But I'd say it's front and centre thinking for most of the councils in the West. They know the transformation of their town centres is critical to offering the services and the amenity and the job opportunities locally that they're able to carry."
RELATED: Western Sydney story: How Nathan Birch is investing in the heartland
If you were helping other businesses decide whether to position themselves in Western Sydney today, what would you say to them?
"Is the region providing you the ingredients you need to do your business? Is the region providing you the landscape that is your market for your business? It's really simple in those two contexts.
"Why did Amazon come here? Because when they've stepped back and looked at the profile of online spending and their history, some of the largest trends in online purchases have come from the Southwest Sydney region. So they're staying close to where their market is and then they're tapping into the investments around logistics and supply chain and major motorways that are then enabling them to service the rest of Sydney and into Greater New South Wales as that comes into play.
"Businesses are thinking about the labor forces they're looking for, thinking, 'I'm looking for young, smart, dynamic, creative people. I'm looking for well-established people in their industry, for people who have a desire to succeed. And what they see when they then look at the resident profile of Western Sydney, is exactly those characteristics. First and second-generation migrants, people who've come here from other countries because of what the opportunity affords. There's a significant drive that comes with that, and you get this culture that starts building.
"If you're looking for workforces, you'll go a long way to find a more dynamic workforce than what's in western Sydney. If you're looking for a market, well, you'll be within 40 minutes' drive of two million people within a couple of years. It's pretty compelling.
"I think the other thing that's in play is, 'do I want to be globally relevant'? You're going to be in the most connected place in Australia between road, rail and international exit points with Badgerys Creek Airport. To succeed you've got to be close to where the markets are and you've got to invest to make it real."
ADVICE
What would your advice be to businesses who are just setting out to employ and foster a workforce in Western Sydney?
"Invest in place, invest in people and authentically buy into the issues that shape the region. That makes every business from the local takeaway to your banks, to your realtor and hairdresser, all the way through to professional services firm like ours and others, relevant in the market and attractive as an employer. Focus on the purpose of how to make an impact that matters, because that connection of purpose, with people who have a connection to this place, makes it a no-brainer to ensure we can continue to draw on the best talent from the region."
If you'd like to talk about how you can access the best talent for your business, speak to one of our Western Sydney experts today.